We are excited to host a FORMER MENTEE of ours who will speak about his experience TODAY AT 12PM ET regarding how he transitioned from a student-athlete to Investment Banker to Private Equity Associate and now an Incoming MBA!
  Date: TODAY – Friday, August 18th
  Time: 12:00 pm ET
Anthony Neyer, an accomplished individual whose trajectory of excellence has taken him from the University of Southern California's playing fields to the dynamic landscape of private equity. As a former student-athlete (football) and a Bachelor's Degree holder in Communication, Anthony's journey into the world of finance began as an Investment Banking Analyst at UBS. Most recently, he thrived as a Private Equity Associate at Sverica Capital Management – a prominent growth-oriented lower middle market private equity firm with an impressive $2.0 billion in aggregate committed capital.
Discover how Anthony's passion for finance evolved into a thriving private equity career
Uncover the key skills and experiences that propelled Anthony to his most recent prestigious role
Explore the challenges and triumphs of the demanding world of private equity
Get an insider's view into Anthony's memorable deals and the impactful strategies that set them apart
Gain insights into maintaining personal and professional growth in a high-pressure industry
Examine how external factors shape the landscape of private equity and how adaptability is key
Join us in learning about Anthony's transition from Private Equity Associate to an incoming MBA candidate at Columbia Business School
Understand the motivations behind pursuing an MBA and how it aligns with long-term career goals
Featured Speaker: Anthony Neyer
Recent Position: Private Equity Associate, Sverica Capital Management
Incoming MBA Candidate: Columbia Business School
Rohit Malrani will be moderating the conversation. Rohit brings experience from growth equity investing from Battery Ventures and operating experience from SourceScrub where he was Employee #2 and helped scale the business to an investment from Francisco Partners.
Moderator: Rohit Malrani
Position: Co-Founder, OfficeHours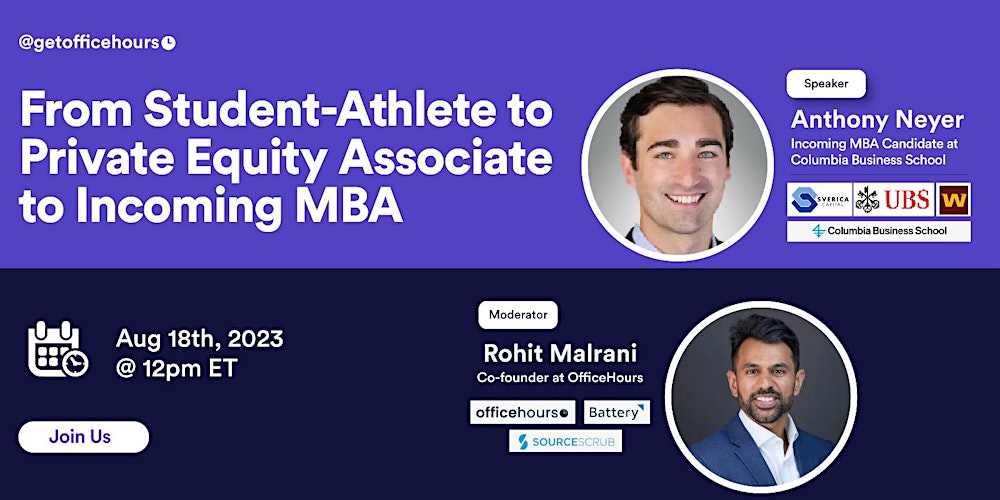 From Student-Athlete to Private Equity Associate to Incoming MBA
Join us as Anthony Neyer discusses his journey as a former D1 Student-Athlete to PE and now Incoming MBA Candidate at CBS.
All attendees will be entered into a raffle for FREE PLATFORM ACCESS and a SINGLE MOCK COACHING CALL with a PE Professional of their choosing (schedules pending).
Case Study: Student-athlete To The Buyside
"Join OfficeHours to take your student-athlete career to the next level. Learn from top finance experts, build valuable skills.
Where do you currently stand in On-Cycle 2025 Recruiting?
Which Asset Has The Highest ROI…? Yourself
Discover the highest ROI for your career with OfficeHours. Gain expert insights on maximizing your skills, salary.
What makes you most nervous for recruiting?
Is Business School For You?
As a pre-law student in undergrad, I double majored in Economics and Politics. I was obsessed with understanding why the world operated the way that it did.
Is Private Equity Right for You?
To know if the buyside is right for you, let's start with a textbook understanding of "What is private equity?" Private equity involves
Are you interested in learning more about OfficeHours and how a Banking/Buyside Coach can help you?
How to Ace your PE Case Study
Many young professionals undergoing the PE recruiting process will go through a case study at some point in the interview process. While other