Bring Questions for Rhea Harsoor TODAY at 3PM ET!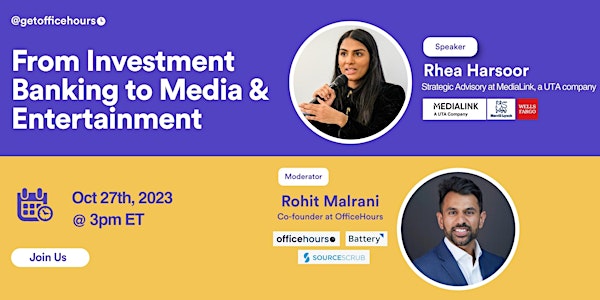 ---
How does one go from IB to Media?
Transitioning from a career in investment banking to the dynamic world of media may seem like a significant shift. However, with the right strategy and thoughtful planning, this transition is indeed possible… learn more from prior webinar attendees with the link below!
---
Listen to OfficeHours on Spotify. OfficeHours is an online platform that provides 1-on-1 coaching, training, and advice to help you land a job in competitive finance careers including investment banking, private equity, growth equity, venture capital, and hedge funds.
open.spotify.com/show/7aeLSeoDAPHEGZ89UECnmk
---
We are excited to host Rhea Harsoor as she shares her insights and journey from Investment Banking to Media and Entertainment
TODAY AT 3PM ET

!
Date: TODAY, Friday, October 27th

Time: 3:00 pm ET
---
By day, Rhea Harsoor works in management consulting at UTA via MediaLink, and by night, she runs ABCDGen, a social media platform and community she scaled from the ground up to bring humor, memes, and entertainment to the South Asian community. Starting her career on Wall Street, Rhea quickly found that her perspective as an Indian American in a predominantly white environment gave birth to a multitude of uniquely hysterical experiences. To celebrate and share her comedy with the world, she created her meme page ABCDGen, short for American Born Confused Desi Generation. Beyond working in finance and consulting, Rhea is also an award-winning stand-up comedian who performs regularly around New York City & Chicago.
Webinar Highlights:
What drove your decision to transition from investment banking to the media and entertainment industry?
Could you highlight specific skills or experiences from your investment banking background that have proven beneficial in your current media and entertainment role?
What were the principal challenges you encountered during your career change, and how did you overcome them?
In comparison to your experiences in finance, how do you handle the responsibilities and pressures of a profession in media and entertainment?
Are there any financial insights or lessons that professionals in the media and entertainment industries have to keep in mind?
Have you encountered any unexpected advantages or benefits in your new professional route that you hadn't foreseen while making the switch?
What experiences or learnings from your professional development do you think professionals in all industries may benefit from?
What advice would you give those thinking about switching from finance to media and entertainment?
 Featured Speaker: Rhea Harsoor

Recent Position: Senior Associate, MediaLink

Stand Up Comedian, Content Creator, Host, Founder, ABCDGen
---

Rohit Malrani will be moderating the conversation. Rohit brings experience from growth equity investing from Battery Ventures and operating experience from SourceScrub where he was Employee #2 and helped scale the business to an investment from Francisco Partners.
Moderator: Rohit Malrani

Position: Co-Founder, OfficeHours
---
Periscope Equity & OfficeHours Discuss Associate Success in Private Equity
OfficeHours is mandated by Periscope Equity to help them hire a PE Associate. You can find the application link here: https://lnkd.in/gXKDC2Eh Joe McIlhattan joined Periscope Equity in 2019 and is a Vice President. Periscope Equity is a Chicago-based private equity firm that partners exclusively wi…
From IB Associate to Growth Equity to Entrepreneurship
Alice Shang is a former Investment Banking Associate at Lazard, where she gained her financial skills and insights into the world of finance. Her journey led her to a role as an Investor at TCV, a $21 billion growth equity fund that has invested in companies such as Netflix, Airbnb, Spotify, Peloton…
From Student-Athlete to Private Equity Associate to Incoming MBA
Anthony Neyer is a former student-athlete at the University of Southern California, where he graduated with a Bachelor's Degree in Communication. He began his professional journey as an Investment Banking Analyst at UBS. His commitment to finance led him to his role as a Private Equity Associate at…
---
Where do you currently stand in On-Cycle 2025 Recruiting?
Do you see another on-cycle wave starting this year?
What makes you most nervous for recruiting?
Are you interested in learning more about OfficeHours and how a Banking/Buyside Coach can help you?
---
Visit the OfficeHours Blog and follow us on our social media accounts: Instagram, LinkedIn, YouTube, TikTok, and Twitter for our latest updates.