Growth Equity (ex-TCV Investor) Webinar TOMORROW at 12PM ET!
Think it's too late for you to recruit as an Associate? Think again! Come listen to Alice speak about her time recruiting as a Lazard IB Associate into TCV Growth Equity!
Growth Equity is a personal favorite of mine — particularly because of my time at Battery Ventures but also because even though we advertise Private Equity Prep — more and more folks come to us wanting to land a role in Growth…
Growth = almost equivalent pay but better hours/work life balance
Almost every major PE firm has a Growth Arm so many opportunities
You get to actually help businesses grow+ rather than cut costs-
Conversations are more engaging/sourcing is how you learn about industries directly from management teams
Interviews are technical yet case study driven which arguably helps better develop your investor mindset> just being a modeling monkey for a major PE chop-shop
TCV is a MAJOR Growth Equity Firm and while we have hosted others from this firm in prior webinars — I am very excited to speak with Alice tomorrow about her experience pursuing IB, Growth, Venture, and then Entrepreneurship!
Join us as Alice Shang shares her insights and journey TOMORROW 8/24 AT 12PM ET regarding her journey from Investment Banking to Growth Equity to Entrepreneurship.
 Date: TOMORROW – Thursday, August 24th
 Time: 12:00 pm ET
Alice Shang is a former Investment Banking Associate at Lazard, where she gained her financial skills and insights into the world of finance. Her journey led her to a role as an Investor at TCV, a $21 billion growth equity fund that has invested in companies such as Netflix, Airbnb, Spotify, Peloton, Strava, and Hinge Health. She earned her bachelor's degree in Business Administration (BBA) from the University of Michigan – Stephen M. Ross School of Business and her master's degree from Harvard Business School. Continuing her professional route, Alice served at Atomic as an operator, and her journey took a new turn as a Female Founder's Fellow at Primary Venture Partners, a program that helps entrepreneurs launch new startups.
What inspired you to make the switch from investment banking to growth equity and eventually pursuing starting your own business?
How did your investment banking experience help you succeed in growth equity investing and beyond?
What advice would you give to someone considering a career in IB/Growth Equity?
How has your role as an investor helped you succeed personally and professionally?
You graduated from the University of Michigan's Ross School of Business as well as Harvard Business School… How have these educational experiences aided your professional development and career path?
 Featured Speaker: Alice Shang
 Recent Position: Female Founder's Fellow, Primary Venture Partners, TCV, Lazard IB Associate
Rohit Malrani will be moderating the conversation. Rohit brings experience from growth equity investing from Battery Ventures and operating experience from SourceScrub where he was Employee #2 and helped scale the business to an investment from Francisco Partners.
Moderator: Rohit Malrani
Position: Co-Founder, OfficeHours — ex-SourceScrub (FP PortCo), Battery Ventures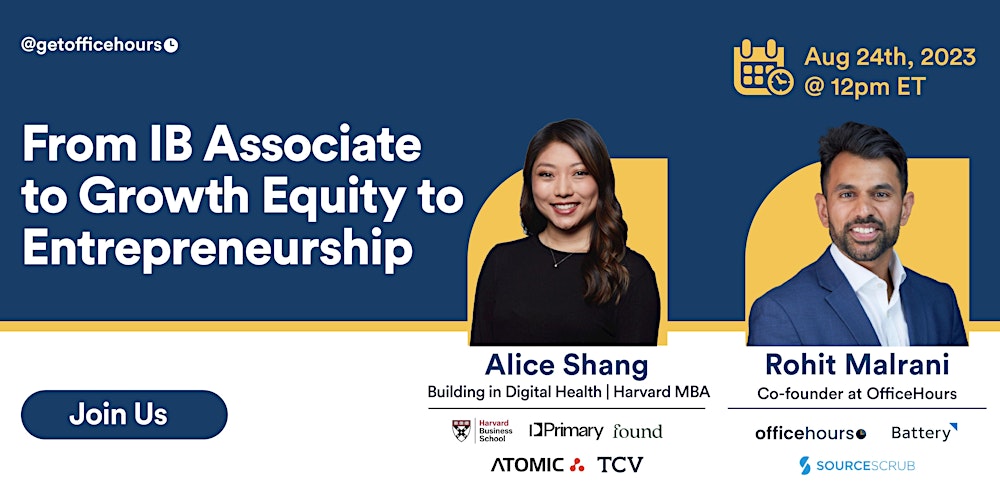 From IB Associate to Growth Equity to Entrepreneurship
Join us as Alice Shang shares her insights and journey from Investment Banking to Growth Equity to Entrepreneurship.
---
Check Out Some Other Growth Resources
A Career in Growth Equity with Aleksandra Antolak by OfficeHours
Ever wonder what it would be like to start in Growth Equity as an Analyst at TCV ($4Bn fund, $22.5Bn AUM), move to banking at Raymond James Tech & Services Group in Boston (the same group that sold SourceScrub to Francisco Partners 👏 ), transition to focus on traditional sourcing/growth at Summit P…
Are you interested in pursuing a role in Growth Equity?
Growth Equity Panel with Laura Nicklas & Maggie Miller by OfficeHours
Join us as we bring together a panel from our network discussing a career in Growth Equity!
Panelists include: Laura Nicklas (Blueprint Equity, formerly with Sourcescrub) Maggie Miller (Turn/River Capital, formerly with Bannerman) The moderator is our very own Rohit Malrani, Co-Founder of Office…
Day In The Life: Growth Equity
I've aggregated the thoughts from my own experience in growth equity & with the thoughts of many of our OfficeHours Growth Equity Coaches.
3-03-2022 Newsletter: Why Buyside Is All About Growth Rates
SO you know you want to pursue Buyside, you're sick of just being a real estate broker, you want to buy the building
Where do you currently stand in On-Cycle 2025 Recruiting?
Growth Equity Panel with Caitlin Vorlicek, Emily Calkins, & Erik Lim by OfficeHours
In this episode, we bring together some friends from our network to discuss Growth Equity Investing through an OfficeHours Virtual Webinar!
Join Rohit along with Caitlin Vorlicek from Sageview Capital, Emily Calkins from Spectrum Equity, and Erik Lim from Potluck Ventures (Backing #AAPI founders) as…
Are you interested in learning more about OfficeHours and how a Banking/Buyside Coach can help you?
What makes you most nervous for recruiting?
Is Business School For You?
As a pre-law student in undergrad, I double majored in Economics and Politics. I was obsessed with understanding why the world operated the way that it did.
Hour By Hour In Growth Equity
Want to learn about OfficeHours? Schedule a time to connect with a Coach to know hour by hour in growth equity.
---
Visit the OfficeHours Blog and follow us on our social media accounts: Instagram, LinkedIn, YouTube, TikTok, and Twitter for our latest updates.